The management of chronic insomnia should recognize that good sleep hygiene is a nessecary but not sufficient requirement whereas cognitive behavioural therapy for insomnia (CBT-I) is viewed as the first-choice intervention.1 Adjunctive pharmacotherapy is also an important component of comprehensive care for many patients. Current guideline algorithms allow for clinical judgment at the time of treatment initiation to determine whether this adjunctive treatment should be administered up front, or as an add-on after first initiating CBT-I and sleep hygiene measures (Figure 1).1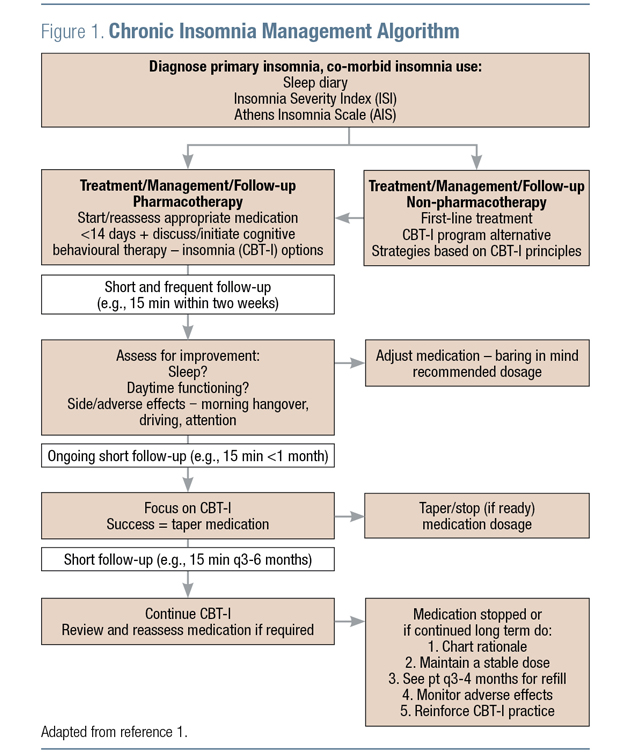 Medications available for the treatment of chronic insomnia have evolved over the decades, and continue to evolve, with new medications in development and under regulatory review.2
Importantly, use of over-the-counter medications with sedating properties (e.g., diphenhydramine, dimenhydrinate, doxylamine) should be discouraged due to the potential for adverse effects (including serious adverse effects) due to their anticholinergic properties.1
Prescription medications for insomnia may be more effective for addressing certain symptoms than others. This is reflected in guidelines, which recommend medications according to the particular insomnia symptom profile. The American Academy of Sleep Medicine (AASM) pharmacotherapy guidelines,3 for example, list the following medications as the best options to address sleep onset difficulties: eszopiclone, zaleplon, zolpidem, temazepam, or ramelteon (not available in Canada). For those who have sleep maintenance difficulties, the recommended list is somewhat different: suvorexant, zopiclone, eszopiclone, zolpidem, zaleplon, temazepam or doxepin.3
Recently, a new medication, lemborexant, has been approved for use in Canada to treat insomnia. Lemborexant, a dual orexin receptor antagonist (from the same pharmacologic class as suvorexant), has also demonstrated efficacy for both sleep onset and sleep maintenance.4-6 For example, in one active- and placebo-controlled, randomized clinical trial, this agent was found to significantly improve both sleep onset and sleep maintenance, compared with both placebo and zolpidem.4 Lemborexant has been approved for use in the USA as of December 2019,7 and was approved for use in Canada, in November 2020.8 Other investigational orexin receptor antagonists (daridorexant, seltorexant) are also being studied in clinical trials.2
Regardless of the medication chosen for a particular patient, guidelines stress the importance of frequent monitoring and short-term use, as there is a risk for tolerance and dependence with many medications.1,3 Even for those medications with limited risk of physical dependence (such as orexin receptor antagonists), successful treatment of insomnia symptoms—particularly if they had been previously longstanding — can lead to a psychological dependence.1
Guidelines recommend frequent assessment of response to the management strategy. A planned course of treatment with a preset discontinuation date followed by a specific time that the patient is hypnotic free is a useful strategy. In the event that symptoms return using this approach, the guidelines recommend re-introducing medication.1
---
KEY TAKEAWAYS
Recommend CBT-I as the first-line treatment to every adult patient with chronic insomnia.

Sleep hygiene is not CBT-I; sleep improves when effective therapy is delivered.

Direct patients to trained providers or to CBT-I tools that have been tested in research.
---
References:
1. Alberta Guidelines. 2015, Towards Optimized Practice, Assessment to Management of Adult Insomnia - Clinical Practice Guidelines. December 2015.
2. Liu MT. Current and Emerging Therapies for Insomnia. Am J Manag Care 2020; 26(4 Suppl):S85–S90.
3. Sateia MJ, Buysse DJ, Krystal AD, et al. Clinical practice guideline for the pharmacologic treatment of chronic insomnia in adults: an American Academy of Sleep Medicine clinical practice guideline. J Clin Sleep Med. 2017; 13(2):307–49.
4. Rosenberg R, Murphy P, Zammit G, et al. Comparison of Lemborexant With Placebo and Zolpidem Tartrate Extended Release for the Treatment of Older Adults With Insomnia Disorder: A Phase 3 Randomized Clinical Trial. JAMA Netw Open 2019; 2(12):e1918254.
5. Moline M, Kärppä M, Yardley J, et al. Impact of Lemborexant on Insomnia Disease Severity and Fatigue: Results From the 6-Month Placebo-Controlled Period of the Phase 3 SUNRISE-2 Study. CNS Spectr 2020 Apr;25(2):305–6.
6. Rosenberg R, Zammit G, Yardley J, et al. Pooled Analyses of Patient-Reported Sleep Onset and Maintenance from Two Phase 3 Studies of Lemborexant. CNS Spectr 2020; 25(2):304–5.
7. Eisai Inc. DAYVIGOTM (lemborexant) Prescribing Information (USA). Revised: December 2019.
8. Eisai Limited. DAYVIGOTM (lemborexant). Product Monograph (Canada). November 3, 2020.
Development of this article was made possible through the financial support of EISAI Ltd. The opinions expressed herein are those of the author and do not necessarily reflect the views and opinions of EISAI Ltd. The author had complete editorial independence in the development of this article and is responsible for its accuracy. The sponsor exerted no influence in the selection of content or material published.